Education & Employment
Marriage Equality
The Snow Foundation believes in humanity and equality and that all couples should have the choice to marry.  This is why we and also the Snow family business, Canberra Airport were right behind the Marriage Equality campaign from the beginning.
In 2015 Canberra Airport lit up the airport in rainbow colours with 'Together We Can Do This' demonstrating its support to marriage equality and to help bring to the politician's attention the deep, positive and strong feelings of the community in support of marriage equality.
Soon after, Tom Snow and Brooke Horne who had a strong belief and passion that there needed to be change in our country, became the change agent leaders themselves. They co-founded the Equality Campaign with Australian Marriage Equality with Co-chairs Alex Greenwich and Janine Middleton. For two years they ran the Equality Campaign together and built it from a small office of 3 staff to 88, with 15,000 full-time volunteers.
[caption id="attachment_1056" align="alignleft" width="640"]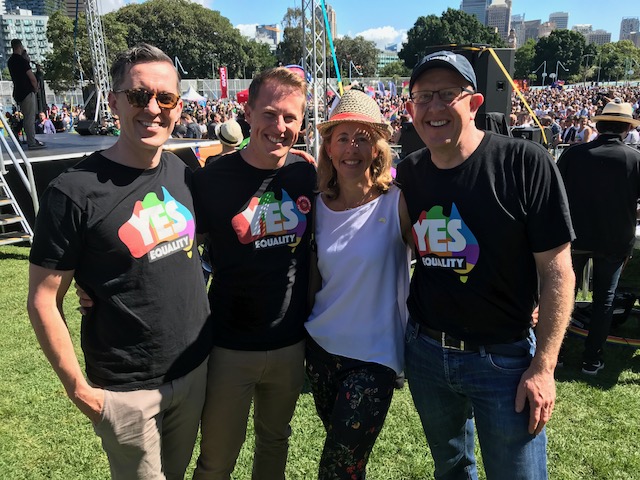 Tom Snow, Broke Horne, Georgina Byron, CEO of the Snow Foundation and Stephen Byron, CEO, Canberra Airport were among thousands of others at Sydney's Prince Alfred Park on 15 November, to celebrate the YES verdict of the postal vote on same-sex marriage.[/caption]
The Snow Foundation become one of the cornerstone supporters of the Equality Campaign and advocated with a coalition of philanthropists including The Reichstein Foundation, and The Myer Foundation, The Caledonia Foundation, and Ian Darling to ensure the movement had the capacity to deliver reform. This movement included an intensive media communication campaign filled with respectful human stories representing all sectors of our diverse community in Australia.
On 15 November we heard loud and clear that Australia felt the same, and that fairness and equality are at the heart of our Australian society.  The YES campaign received 61.6% of the national vote, with Canberra delivering the highest YES vote of 75%.  In December Parliament said yes to Marriage Equality.
Scholarship programs
We fund a variety of scholarship programs with a focus on assisting students in the region surrounding Canberra and the South Coast to further their education. The funding covers a wide variety of recipients, including refugees, Aboriginal and Torres Strait Islanders and the LGBTIQ community. The Snow Foundation commits approx. $200,000 per year to several programs with multiple year agreements.
Country Education Foundation fosters the education, career and personal development opportunities of rural and regional youth, through community-based encouragement and financial assistance. We have committed to contributing $75,000 per annum for students in the Yass, Goulburn, Braidwood and Cooma communities.
Royal Agriculture Society Foundation funds scholarships for rural students looking to go into the various fields and return to rural NSW once they graduate. We have committed to contributing $75,000 to support students from the surrounding Canberra and South Coast regions.
The Pinnacle Foundation provides scholarships for 17-26-year-old LGBT+ students who study full-time education at a public institution of higher education. Our $15,000 in funding went to two students studying in the Canberra region.
Companion House is a program that helps refugees in Australia who have higher education goals, after suffering trauma or torture in their home countries. Our annual $10,000 assists six students with course fees and other expenses associated with studying at the University of Canberra.
Queanbeyan High School offers scholarships from our grant of $10,000 a year to five students across Year 10 and 12 who would otherwise be limited in opportunity due to economic constraints, enabling a successful pathway to continue their education at either University or TAFE.
AIME
The Snow Foundation has been an incredible partner to work with in the ACT. The sincere commitment of time, energy and resources from the Snow Foundation, and the family behind this great organisation, has enabled our programs to experience the success we have in the Nation's Capital.
Australian Indigenous Mentoring Experience (AIME) provides a dynamic evidence-based educational program that gives indigenous high school students in years 7 to 12 the skills, opportunities, belief and confidence to finish school at the same rate as their peers. AIME also connects students with post Year 12 opportunities, including further education and employment.
After an inspirational meeting with Jack Manning Bancroft, Founder and CEO of AIME in 2009, Georgina Byron was determined to get AIME up and running in Canberra. In 2013, The Snow Foundation pledged $200,000 to be spent over 4 years to assist with setting up Canberra based programs. After an initial feasibility study on the ACT, $60,000 was put towards developing programs with the University of Canberra and the Australian National University, including an outreach program. The AIME target of working with 100 Indigenous students across Canberra and the region within the first year was met. The next step for AIME's Canberra operations, in partnership with the Snow Foundation, is to increase the access and the number of Indigenous Students participating in AIME's Programs across Canberra.
Health
Rheumatic Heart Disease
[caption id="attachment_2217" align="aligncenter" width="1238"]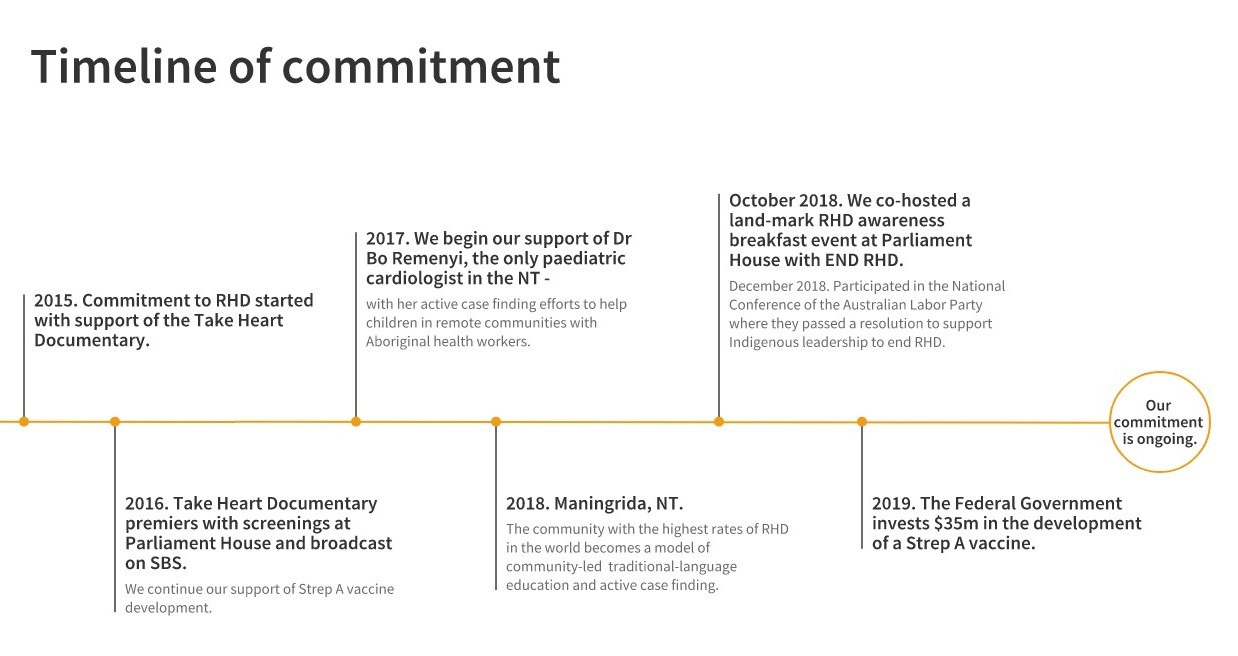 The Snow Foundation plays a very active role in the campaign to end Rheumatic Heart Disease by seed funding community-led solutions, education and advocacy and working with many partners.[/caption]
Australia has some of the highest rates of rheumatic heart disease (RHD) in the world, even though this preventable disease was virtually eradicated in most of the country decades ago. Today, this complication from Strep A is found in Indigenous and remote Australian communities, and in children as young as two. RHD begins as a sore throat or skin sore from Strep A, that can damage the heart if undiagnosed and untreated.
Without a vaccine, people with RHD must stay on a strict and painful, penicillin injection schedule every month for at least ten years. Missing one dose can mean reinfection and further heart damage. Severe heart damage from RHD requires open-heart surgery and a lifetime of additional medication. Cases left untreated will become fatal. Two young Australians die of RHD each week.
In 2015, The Snow Foundation joined the fight to end RHD by funding documentary filmmakers Mike Hill and Sue Collins and their documentary "Take Heart: The Quest to Rid Australasia of Rheumatic Heart Disease." It provides a first-hand account of RHD treatment and prevention in remote communities across Australia and New Zealand.  The film grew into action toolkits, sponsored by BUPA, that included additional short films, apps, and educational materials to help children and their families learn about RHD prevention and treatment. This is available to communities, schools and clinics.
Take Heart premiered in 2016 and was screened around Australia. It was broadcast on SBS screened at Parliament House in an event sponsored by The Snow Foundation and the Aspen Foundation.
The Snow Foundation also began our continuing support of research to develop a Strep A vaccine, headed by Professor Michael Good AO, a National Health and Medical Research Council Senior Principal Fellow at Griffith University.
In 2017, two film screenings were held at Parliament House hosted by The Snow Foundation and Aspen Foundation, one with the Parliamentary Friends of the Close the Gap Campaign where Penny Yibaruk, a 12-year-old with Rheumatic Heart Disease from Onepeli in the Northern Territory spoke about the challenges of the disease and its treatment. She must take regular does of penicillin to stay alive and says, "I just want to be free from this disease." Dr Boglarka Remenyi, 2018 Northern Territory Australian of the Year and the only paediatric cardiologist in the Northern Territory also spoke to the group about the depth of the problem across the Northern Territory and in remote communities.
The Snow Foundation supports both Dr Bo and Dr Josh Francis, an infectious disease specialist, as they tirelessly volunteer to lead active-case finding in Australian communities with high rates of RHD. Part of their case-finding is teaching Aboriginal health workers to scan the hearts of local children with hand-held echo cardio devices, for immediate detection and better communication with the children who are at greatest risk.
Between March 2017 and November 2018, there was great success in Maningrida, NT, the community with the highest rates of Rheumatic Heart Disease in the world.  The community embraced traditional language education and active case finding to stop the spread of RHD. Community-led, active-case-finding using hand-held equipment at the local school and in the homelands screened 620 children and found 32 cases of RHD. Three children needed emergency open-heart surgery, have returned home and have been successfully following their strict regimen of injections. The community also fully embraced traditional language education to help children self-identify sore throats and skin sores for treatment and teach parents about RHD, the risk factors and prevention techniques.
It's been the greatest community collaboration I've ever experienced," said Joseph Diddo, Traditional Owner, Maningrida.
2018 was also the beginning of nationwide momentum to end Rheumatic Heart Disease in Australia. In May, The World Health Assembly passed a resolution requiring member countries, like Australia, to prevent and eliminate RHD.
In October 2018, The Snow Foundation hosted a land-mark 'End RHD' breakfast at Parliament House together with co-host END RHD, an allegiance of organisations working to address the disease, where both political parties committed to ending RHD. Pat Turner, NACCHO CEO, said, "Our shared vision is that no child born in Australia from this day forward should die of RHD. We are here – now – to ask for your help in bringing that vision to life. …RHD sticks out. It's the greatest cause of cardiovascular inequality for Aboriginal and Torres Strait Islander people in this country… It exemplifies the gaps in prevention in the health system and in outcomes." The Brown family travelled from Maningrida with their three boys who all have rheumatic heart disease that requires monthly injections to prevent deadly complications. As a family and as spokespeople for the families battling RHD, they were able to tell their story of coping with Rheumatic Heart Disease in a remote part of Australia. At the end of the event, both political parties confirmed their commitment to eliminate RHD.
Finally, in December, at the National Conference of the Australian Labor Party, a resolution was passed supporting Indigenous leadership, governance and action to prevent and aim to eliminate RHD.  They called for prioritising community-led action with a primary focus on Aboriginal and Torres Strait Islander communities with the highest rates of Strep A infection, ARF and RHD.
In 2019, the movement to end Rheumatic Heart Disease continued to grow with even more political success. In February, the Hon. Ken Wyatt AM MP announced the Morrison Government is investing $35 million over 3 years in the development of a Strep A vaccine. National Aboriginal Community Controlled Health Organisation (NACCHO) CEO Ms Pat Turner AM, said the ACCH sector welcomed this funding as a part of the work to end RHD: "We hope that research funds will be mirrored by investment in frontline health services, such as ours, as part of a comprehensive strategy to end rheumatic heart disease in Australia."
Just a few weeks later, in April, Opposition Leader Bill Shorten committed to $33 million in funding for community-led action on rheumatic heart disease (RHD) over three years.  Dr Bo Reményi called it a "significant and magnificent start" to end a disease which is crippling and killing Australian children. It's also an opportunity for other parties to match this commitment to end RHD. RHD Australia Senior Cultural Advisor and The Snow Foundation partner, Vicki Wade, also welcomed the announcement of additional funding to prevent and eliminate RHD.  "RHD is the best marker for disadvantage between communities, and if we can prevent RHD, we can prevent a lot of other diseases. The social determinants of ARF and RHD are common with many other health problems in Aboriginal and Torres Strait Islander communities, including kidney, skin, eye, ear and respiratory diseases," Ms Wade said. "Our mob want to see action and change now. We need our communities to take charge now to prevent this unacceptable disease. Change needs to come from our people, our choices, our voices," she said.
Motor Neuron Disease
Dr Nicholas Cole and his research team at Macquarie University have made great progress in their journey to finding a cure or treatment for Motor Neuron Disease (MND). The team uses zebrafish, an established research model, in their laboratory to generate zebrafish models of the disease to understand how motor neurons die in MND patients. This is possible as zebrafish are transparent and, at a cellular level, have the same nerves and muscles as humans. This means that the degeneration of motor neurons can be seen in a living animal, giving clues into the biological origins of the disease.
The Snow Foundation provided equipment for the fish lab to assist establishment in 2009, and since then have supported the salary of Emily Don a scientist who has subsequently gained her honours degree and PhD. Together Dr Cole and Dr Don have generated good data enabling them to publish papers in high profile journals including Nature, Frontiers in Neuroscience and Nature Communications. The laboratory has expanded and now supports a full time fish room technician, and has more than 20 users including six PhD students who are currently studying in the laboratory.
The Snow Foundation are thrilled with the progress of the MND research but also the development and training of the next generation of young medical scientists such as Dr Emily Don who shares with us her insights:
"In addition to the significant increase my research output, I have made substantial steps towards training the next generation of medical scientists. In 2017 I am focusing on determining how the most common genetic cause of motor neuron disease, the C9orf72 repeat expansion, causes the loss of motor neurons.  My aim is to generate zebrafish that contain long repeat sequences in order to study and understand the basic biological processes that result in motor neuron death.
 Macquarie University has assembled the nation's largest and first dedicated MND Research Centre with a specialised team of researchers in genetics, biochemistry, cellular biology and animal models. Our multidisciplinary team are collaborating and dedicating our working lives to better understand and beat MND.
 I strive to keep contributing my very best and to maintain a position as in the MND Research Centre. As a young female early career research scientist, in an ever more competitive research funding environment, it is difficult to maintain continuous employment. Having The Snow Foundation support through my early career has enabled me to gain a foothold as a research scientist and provided the stability desperately needed to maximise the time invested in training me in the skills required to be a research scientist."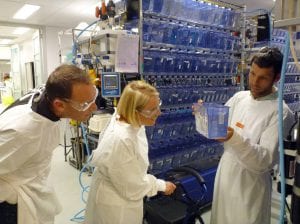 Dr Nicholas Cole shows a MND patient the Zebrafish models used to try to understand the causes and cure MND.
One Disease
One Disease's mission is to eliminate Crusted Scabies as a public health concern from remote Indigenous communities in Australia by 2022. One Disease has worked with over 90 Crusted Scabies patients and healthcare providers in the Top End of the Northern Territory since 2011, with early seed funding from The Snow Foundation for their 'Healthy Skin Program' in East Arnhem Land.
They have made incredible progress and are now working in 28 communities across the Northern Territory. Crucial to their success is their approach. The 'Healthy Skin Program' is culturally respectful and has been developed in partnership with the Indigenous communities.
In the past year, The Snow Foundation's support has largely been for the Indigenous community of Maningrida, where five patients with Crusted Scabies receive ongoing support to work towards self-management.
This work has improved the lives of so many like Adam's family whose children had recurring Crusted Scabies for four years, prior to the help of One Disease. "It's been six months since the children were treated in hospital and we have not seen white crusts since. Thanks to One Disease, our family are no longer itching and scratching, fighting this mite. I don't have to warn friends and family not to hug the children. I feel safe knowing scabies has gone and so has the risk of serious long term health issues," Adam's story.
One Disease is working to put Indigenous health back in the hands of the Indigenous people. They encourage education and embed systems that allow for ongoing self- management of Crusted Scabies on a local level - to make sure that Adams story isn't repeated.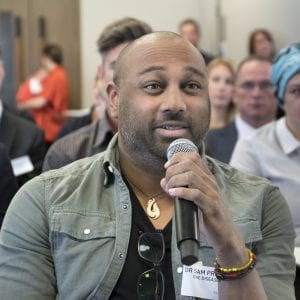 Dr Sam Prince, Founder and Chair of One Disease at The Snow Foundation 25th anniversary celebration