Education & Employment
AIME
The Snow Foundation has been an incredible partner to work with in the ACT. The sincere commitment of time, energy and resources from the Snow Foundation, and the family behind this great organisation, has enabled our programs to experience the success we have in the Nation's Capital.
Australian Indigenous Mentoring Experience (AIME) provides a dynamic evidence-based educational program that gives indigenous high school students in years 7 to 12 the skills, opportunities, belief and confidence to finish school at the same rate as their peers. AIME also connects students with post Year 12 opportunities, including further education and employment.
After an inspirational meeting with Jack Manning Bancroft, Founder and CEO of AIME in 2009, Georgina Byron was determined to get AIME up and running in Canberra. In 2013, The Snow Foundation pledged $200,000 to be spent over 4 years to assist with setting up Canberra based programs. After an initial feasibility study on the ACT, $60,000 was put towards developing programs with the University of Canberra and the Australian National University, including an outreach program. The AIME target of working with 100 Indigenous students across Canberra and the region within the first year was met. The next step for AIME's Canberra operations, in partnership with the Snow Foundation, is to increase the access and the number of Indigenous Students participating in AIME's Programs across Canberra.
Scholarships – Country Education Foundation of Australia
Scholarships – Royal Agricultural Society Foundation
The Snow Foundation has committed $45,000, over three years, to the Royal Agricultural Society Foundation (RASF) NSW for Rural Youth Scholarships.  This funding provides scholarships for tertiary education and training for local socio-disadvantaged rural students to achieve their education goals. In 2014-2015 scholarships were awarded to four students from Burrawang, Murrumburrah, Ulladulla and Yass.  These students are pursuing careers in medicine, education, disability care and veterinarian studies and have a great interest and commitment to returning to rural NSW to work.
For one student a career in medicine was ignited in primary school and reaffirmed in high school during a work experience placement with a rural GP.   Now in the second year of a Bachelor of Medical Studies/Doctor of Medicine this student after graduating aims to bring attention to the vast specialist shortage in rural areas and improve rural health care in his area. 
Completing a Bachelor of Occupational Therapy is a life-long dream for another student with a passion to help people.  Being raised in a small rural community, it became obvious that there was a need to improve health care access across rural Australia.  On completing the degree, the plan is to gain experience in several areas of occupational therapy including the elderly and traumatic brain injury. The learnings, knowledge and expertise obtained will allow this student to teach people skills and strategies to make their lives more comfortable and enjoyable.
Growing up surrounded by farms ranging from dairy to poultry, with strong rural roots saw our third student's passion for animals flourish.  A  long ambition to help secure the future of rural NSW through work as a Veterinarian this student plans to assist primary producers to maximise productivity, improve animal welfare and profitability to ensure the animal production industry remains viable for future generations.
Completing a first aid course led the fourth student to enrol in a Bachelor of Advanced Nursing.  Growing up in a rural community at the south coast this student observed the gap that exists between the city and country in the area of health care. Being active in the community via school and sporting activities has given this student the passion to be an ambassador for equity in rural health.
Health
Friends of the Brain Injured
The assistance the Snow Foundation gives us means we are not alone. Someone cares. There needs to be more understanding like this
Libby Steeper knows first hand the challenges and frustrations of finding the right support for brain-injured children. Libby is the Secretary of 'Friends of the Brain Injured', a Canberra based charity. She is also grandmother to 4-year-old Fiona who was born with acute cerebral palsy.
An average week for Fiona requires a never ending round of intensives therapies—acupuncture, physiotherapy, yoga massage and manipulation. There are also visits to a naturopath, a speech therapist and some time with a playgroup that's designed to develop Fiona's physical and mental abilities.
The cost—both financial and in carers time—is enormous. Helping Fiona has been a full-time commitment for both parents and grandmother.
The Snow Foundation's sponsorship of Fiona meets the costs of acupuncture and treatment by a conductive therapist. The conductive therapist is from Hungary; a country most advanced in the treatment of cerebral palsy. There is a shortage of conductive therapy specialists in Australia and the Friends of the Brain Injured were elated when the Therapist decided to make Canberra her home.
Because of the commitment of her parents, her grandmother and the support of the Snow Foundation, Fiona is now walking with the assistance of crutches, starting speech therapy and is about to enter school only two years behind her able-bodied peers—a Herculean effort by her family and friends.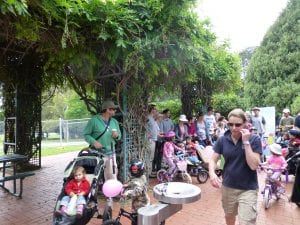 Motor Neuron Disease
Dr Nicholas Cole and his research team at Macquarie University have made great progress in their journey to finding a cure or treatment for Motor Neuron Disease (MND). The team uses zebrafish, an established research model, in their laboratory to generate zebrafish models of the disease to understand how motor neurons die in MND patients. This is possible as zebrafish are transparent and, at a cellular level, have the same nerves and muscles as humans. This means that the degeneration of motor neurons can be seen in a living animal, giving clues into the biological origins of the disease.
The Snow Foundation provided equipment for the fish lab to assist establishment in 2009, and since then have supported the salary of Emily Don a scientist who has subsequently gained her honours degree and PhD. Together Dr Cole and Dr Don have generated good data enabling them to publish papers in high profile journals including Nature, Frontiers in Neuroscience and Nature Communications. The laboratory has expanded and now supports a full time fish room technician, and has more than 20 users including six PhD students who are currently studying in the laboratory.
The Snow Foundation are thrilled with the progress of the MND research but also the development and training of the next generation of young medical scientists such as Dr Emily Don who shares with us her insights:
"In addition to the significant increase my research output, I have made substantial steps towards training the next generation of medical scientists. In 2017 I am focusing on determining how the most common genetic cause of motor neuron disease, the C9orf72 repeat expansion, causes the loss of motor neurons.  My aim is to generate zebrafish that contain long repeat sequences in order to study and understand the basic biological processes that result in motor neuron death.
 Macquarie University has assembled the nation's largest and first dedicated MND Research Centre with a specialised team of researchers in genetics, biochemistry, cellular biology and animal models. Our multidisciplinary team are collaborating and dedicating our working lives to better understand and beat MND.
 I strive to keep contributing my very best and to maintain a position as in the MND Research Centre. As a young female early career research scientist, in an ever more competitive research funding environment, it is difficult to maintain continuous employment. Having The Snow Foundation support through my early career has enabled me to gain a foothold as a research scientist and provided the stability desperately needed to maximise the time invested in training me in the skills required to be a research scientist."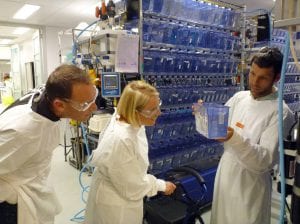 Dr Nicholas Cole shows a MND patient the Zebrafish models used to try to understand the causes and cure MND.
One Disease
One Disease's mission is to eliminate Crusted Scabies as a public health concern from remote Indigenous communities in Australia by 2022. One Disease has worked with over 90 Crusted Scabies patients and healthcare providers in the Top End of the Northern Territory since 2011, with early seed funding from The Snow Foundation for their 'Healthy Skin Program' in East Arnhem Land.
They have made incredible progress and are now working in 28 communities across the Northern Territory. Crucial to their success is their approach. The 'Healthy Skin Program' is culturally respectful and has been developed in partnership with the Indigenous communities.
In the past year, The Snow Foundation's support has largely been for the Indigenous community of Maningrida, where five patients with Crusted Scabies receive ongoing support to work towards self-management.
This work has improved the lives of so many like Adam's family whose children had recurring Crusted Scabies for four years, prior to the help of One Disease. "It's been six months since the children were treated in hospital and we have not seen white crusts since. Thanks to One Disease, our family are no longer itching and scratching, fighting this mite. I don't have to warn friends and family not to hug the children. I feel safe knowing scabies has gone and so has the risk of serious long term health issues," Adam's story.
One Disease is working to put Indigenous health back in the hands of the Indigenous people. They encourage education and embed systems that allow for ongoing self- management of Crusted Scabies on a local level - to make sure that Adams story isn't repeated.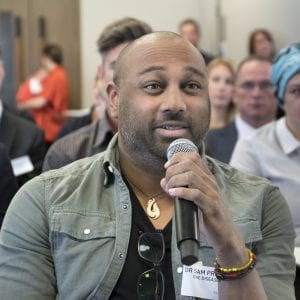 Dr Sam Prince, Founder and Chair of One Disease at The Snow Foundation 25th anniversary celebration
Rheumatic Heart Disease
Rheumatic Heart Disease often commences with a scabies infection and is 100% preventable yet our Indigenous Australians have amongst the highest rates in the world. To raise awareness and assist with prevention, The Snow Foundation provided funding for a documentary film, tool kit, two smart phone apps and medical research.
The rheumatic heart disease documentary titled "Take Heart" is supported with a free action tool kit for communities, schools and clinics. This film premiered in March 2016 and has been screened around the country and on SBS. With sponsorship from BUPA, 14 short films and action tool kits have been distributed to Top End health clinics and some schools. The Snow Foundation and Aspen Foundation hosted a screening for politicians at Parliament House, in October 2016. For more information see http://www.takeheart.tv.
Without a vaccine, indigenous children must take penicillin every month, on time every time for the rest of their lives. The two smart phone apps have been developed to enable kids to stay on track with their penicillin injections, as currently only 50% are on time.  The medical research into a vaccine for rheumatic heart disease is headed by Professor Michael Good AO, a National Health and Medical Research Council Senior Principal Research Fellow at Griffith University.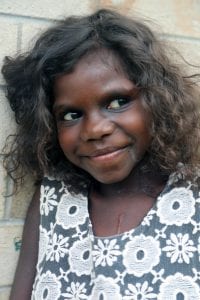 Brooklyn, post-operation, Darwin