Grant Applications 
Thank you for your interest in a Snow Foundation Grant. All grants offered fall under our four pillars.
Grant applications for the Our Place Pillar (specifically from Canberra and/or the surrounding region) closed on April 30 2021 and will re-open in early 2022.
For any questions relating to 2022 grant applications please contact us: enquiries@snowfoundation.org.au
For applications from the South Coast of NSW we work in partnership and fund through FRRR – please go directly to them for all grant enquiries and applications.
For applications from Sydney we work in partnership with and fund through Sydney Women's Fund.
The majority of our grants under the Our Place pillar are small – up to $15,000, with a few up to $50,000. Grants are offered as a one-off or over multiple years.
We have a preference for supporting grassroots organisations that do not have the resources or a public profile to engage in fundraising activities.
Grants within Our Country and Our Sector are fully committed and we are not currently seeking new partnerships outside the Canberra region. The Our Family pillar engages and honours the interests and passions of the Snow family.
Our Place Grants Process
We have a two-step process:
1) Submit an online grant enquiry to outline your project and schedule a phone conversation with a Snow Foundation team member. You will be prompted to create an account for the Snow Foundation grants portal. (Enquiries are now closed.)
2)Following the phone conversation and if eligible, you will be invited to submit a full application (applications closed April 30 2021). Applicants for 2021 will be notified of the outcome of their application by July 31 2021.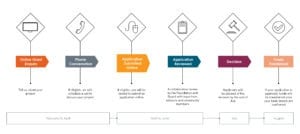 Eligibility
All initiatives must be for the Canberra and/or the surrounding region, be aligned with our purpose, approach and values and comply with our Standard Grant Conditions.
Priority will be given to initiatives that – 
are strong in collaboration and consultation
involve the affected communities
offer new solutions
are led by passionate and skilled leaders, and
have clear objectives, outcomes and evaluation plans.
Our Place – Focus Areas
Economic Justice and Safety – homelessness and affordable housing, family and domestic violence/abuse
A priority area for Our Place is preventing youth homelessness and assisting survivors of family and domestic abuse. 
Education and Employment – life skills, employment pathways, scholarships
Health – end-of-life care, disability, addiction, youth mental health prevention
We Assist With
Innovation
Programs
Research
Advocacy
Equipment
Seed funding
Capacity building
Untied core funding
We Don't Provide Funding For
Sponsorship or endowments
Tickets/tables to fundraising events
Cancer and food programs (beyond existing partners)
Environment
Arts