---
From left: Carolyn Ludovici (Snow Foundation – Our Place Manager), Craig Fitzgerald (Aspen Medical – CEO), Georgina Byron (Snow Foundation – CEO), Rob Oakley (Capital Region Muscular Dystrophy), Branden Stroud (Canberra United Powerchair Representative), Andrew Turvey (Together 4 Youth – CEO representing The One Box), Peter Gordon (Hands Across Canberra – CEO), Ivan Slavic (Capital Region Muscular Dystrophy – CEO), Kristen Franks (Mental Health for Mob – Managing Director), and Joe Roff (John James Foundation – CEO)
The Canberra Foundations Collaborative, a partnership between Hands Across Canberra, the Snow Foundation, and the John James Foundation, is proud to announce the successful recipients of its 2023 grant round.
With a funding amount of nearly $1.3 million, 57 separate projects across various sectors have been awarded grants. This year, the Collaborative has funded over 80% of the invited applications from local organisations, highlighting the commitment to supporting the Canberra community.
The caliber of applications received this year was impressive, reflecting the dedication of organisations working towards social change. The grants program has distributed funding to a diverse range of projects, with a focus on key areas of societal concern.
The funded projects include 13 disability initiatives valued at $453,014, 9 mental health and wellbeing projects valued at $218,715, 6 healthcare projects valued at $309,200, and 6 projects addressing disadvantage valued at $111,300. These projects aim to make a meaningful impact in the lives of individuals and communities.
Recognising the challenges faced by organisations, the Collaborative responded to feedback from previous grants and introduced multi-year funding options. 21 out of the funded projects are multi-year initiatives, with a total associated funding of $1 million.
This year, a third of the approved applications were awarded multi-year agreements, allowing organisations to plan and implement long-term solutions, fostering sustainable change and maximising social impact.
Additionally, the Collaborative welcomed the Aspen Foundation to the table, further strengthening the collective effort to support the for-purpose sector in our region. By working together, the Collaborative reduces administrative burdens and ensures more funding reaches the community, maximising the positive outcomes of each project.
The Collaborative is proud to showcase a few exemplary projects among the grant recipients:
The One Box: This program, in partnership with Together 4 Youth (Andrew Turvey pictured) and seven Queanbeyan schools, received $50,000 for the first year and $25,000 for years 2 and 3. The initiative aims to address food insecurity and promote school engagement for vulnerable families in the Queanbeyan area. By providing free weekly boxes of fresh produce sourced from Australian farmers, The One Box establishes community touchpoints and builds rapport between families and school representatives.
Mental Health Mob: Granted $50,000 for one year, Mental Health Mob (Kristen Franks pictured) will deliver culturally safe and informed mental health services to Aboriginal and Torres Strait Islander people in Canberra and surrounding regions. The services include group interventions, individual and family therapy, as well as cultural activities and camps for youth.
Capital Region Muscular Dystrophy: Awarded $30,000, the organisation will use the funding to acquire additional power football chairs, expanding the Power Chair Football League and creating more opportunities for local players (Branden Stroud pictured). The grant will enable the purchase of four additional chairs, each costing approximately $20,000.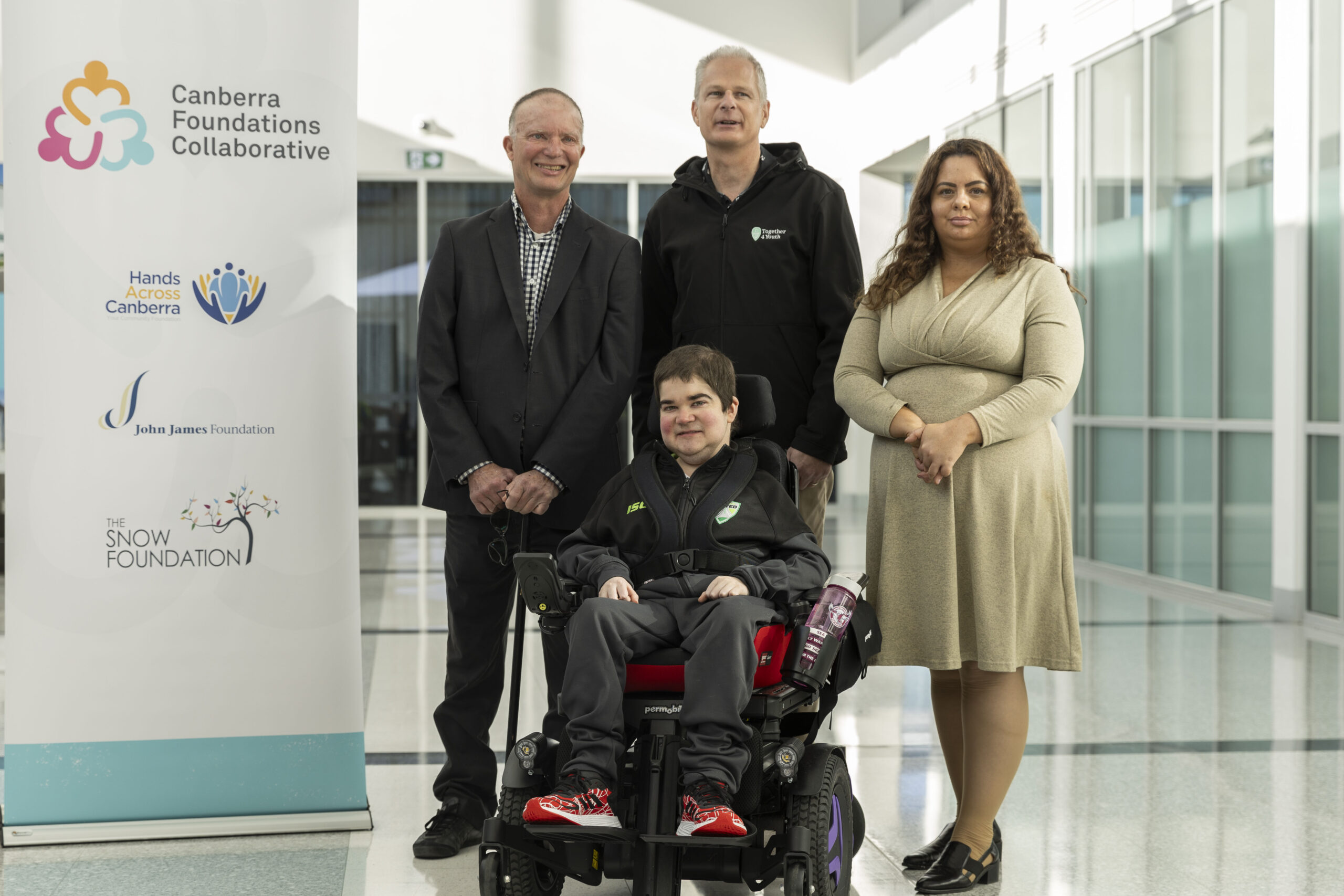 ---
The full list of the grant recipients:
ACT Pet Crisis Support
Asthma Australia Ltd
Beryl Women Inc
Bosom Buddies ACT Inc
Bruton Basketball Foundation Ltd (BBF)
Canberra Community Law
Canberra Kangaroos Football Club
Canberra Refugee Support Inc
Cancer Patients Foundation
Capital Region Community Services
Capital Region Muscular Dystrophy
Carers ACT
Cerebral Palsy Alliance
CHC Australia
Community Home Australia
Delta Therapy Dogs
Directions Health – Teen Clinic
Directions Health- Mini Pat
Doris Women's Refuge Inc.
Dr Charles Mosse (ANU)
Evatt Primary School
First Steps Pregnancy Support
GetAboutAble Pty Ltd
Hawker's Men's Shed
HOME in Queanbeyan
Homeable
Justice Reform Initiative
Legacy Club of Canberra
Lions Youth Haven Inc.
Little Luxton
Mental Health for Mob Aboriginal Corporation
MIEACT
MS Limited
Orange Sky Australia
Ozharvest
Prisoners Aid (ACT)
Project Independence Limited
Rainbow Club Australia Ltd
Raw Potential Canberra
Rebus Theatre Inc.
Right to Work
Roundabout Canberra
Royal Institute for Deaf and Blind Children
Special Olympics ACT
Spinal Cord Injuries ACT
The Farm in Galong Ltd
The Men's Table
The Mill House Ventures Limited
The One Box Group Limited
The Shepherd Centre for Deaf Children
The STOP Campaign
UnitingCare Kippax
University of Canberra – Cancer Wellness
University of Canberra – DV West program
WheelEasy
Woden Community Service
YWCA Canberra