Our Country
Meet Lucas Patchett & Nicholas Marchesi
4 September 2023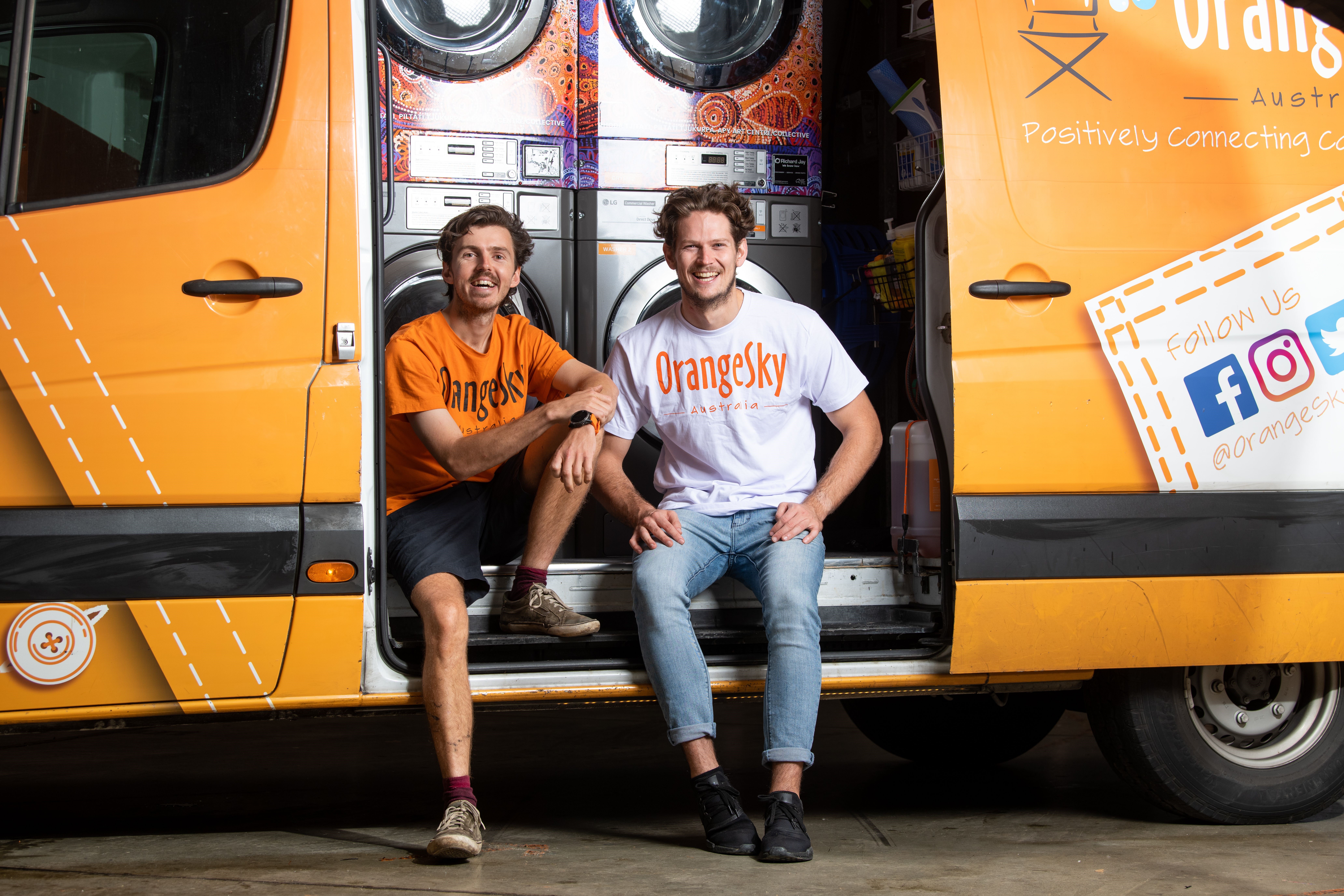 ---
What are your names?
Lucas Patchett & Nicholas Marchesi (Orange Sky Co-Founders)
Where are you currently living? and what do you love about it?
We've been mates since we were kids and went to school together in Brisbane. Since our first shift with Sudsy (our old van) in Wickham Park, we have operated out of Brisbane for nearly 9 years. Brisbane is our home, even though our reach is now across Australia and New Zealand.
How would you describe Orange Sky?
Orange Sky started back in 2014 when the two of us tried (and failed twice) to put a washing machine and dryer into our van Sudsy with a mission to provide clean clothes and conversation to our friends doing it tough in our local Brisbane community. Orange Sky has always been built on innovation, creating meaningful and safe spaces for our friends, and above all else giving things a crack! We are a team who are here to show up and lend a hand, an ear and a shoulder for our friends and each other every day.
How did you get into Orange Sky?
Throughout high school we both volunteered providing meals to people experiencing homelessness in our local community, and this want to help our friends carried through into our early late teens/early 20s (and of course, to now!). As co-founders of Orange Sky, we were inspired by different people throughout our lives and the ability to innovate to deliver now mission of positively connecting communities.
What do you love about working with Orange Sky?
Above all else, the meaningful connections we make along the way, with our friends, our supporters, our volunteers and our team. What started as a free laundry service has grown into a community where a number of our friends no longer need our laundry service and show up to our shifts still for a yarn. The story telling that happens on our orange chairs (which we have with us on every shift) is invaluable to us both.
What's been a highlight? Or a pivotal point in Orange Sky?
There have been so many highlights and pivotal points of our journey with Orange Sky. These have included many incredible friends, volunteer and donor stories. One pivotal point was about 3 months into operating with our first van Sudsy, we had someone reach out to find out more about what we do and come out on shift. After an hour or so this woman said "What do you guys want next?" to which we responded "A second van". At that point she pulled a cheque book out and wrote us a cheque for a second van. This set us on our journey for expansion which laid the foundation for where we are now. Along that journey we had many other similar occurrences from our first shower van, to first remote service to our evolved remote service that the Snow Foundation supported for us in Maningrida, NT with our first focused effort in health.
Homeless is a tag that is often only associated with people sleeping on the street. What are some other types of homeless people that use Orange Sky?
The 2021 census found that 122,494 Australians are experiencing homelessness; that's one in 210 people.
Most of us don't know what it's like to spend a night on the street, but nearly all of us could relate to being cash strapped at one point or another. An unexpected bill, a medical emergency or maybe the breakdown of a relationship – it doesn't take long to be in a situation where money is tight. Of the Australians experiencing homelessness, five percent are 'sleeping rough' and 95 percent are staying in shelters, boarding houses, temporary accommodation or severely crowded homes.
COVID-19, natural disasters, the housing crisis and rising cost of living mean that every day Australians are one unexpected bill away from not having a roof above theirs and/or their families head.
Our goal is to be available, accessible and approachable for ALL friends in need.
For anyone thinking about donating or volunteering with Orange Sky, what would you say to them?
Please jump on board! We would love to have you as a part of Orange Sky. We currently operate 57 assets across 37 locations in Australia and New Zealand. Orange Sky wouldn't be here without our team of over 3,000 volunteers and our incredible financial donors. We would love to hear from you or to find out more go to our website orangesky.org.au
---