Our Place
Meet Hannah Andrevski
21 March 2023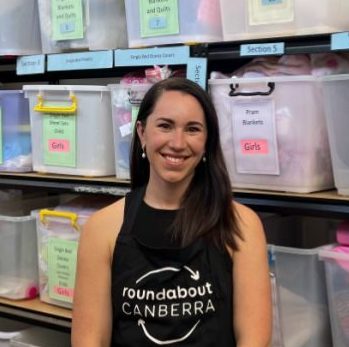 ---
This week we get to meet Hannah Andrevski, Founder and CEO of Roundabout Canberra – making a real difference in our local community.
It's clear to see that Hannah is a great operator with a heart of gold. To see what she's done in five short years, impacted by COVID-19 nonetheless, is a testament to her capabilities and willingness to make a difference. We're excited to learn more about Hannah and Roundabout, so let's meet Hannah!
What is your name?
Hannah Andrevski
How long have you been in Canberra and what do you love about it?
I've lived in Canberra since I was a child (although also spent 8 years living in Queanbeyan as an adult). I love how much green space we have in Canberra and how easy it is to get around. I love the pace, and the fact that there is so much to do but that you just need to look to know where to find it. Canberra is the most wonderful place to raise a family!
How would you describe what Roundabout does?
Roundabout Canberra rehomes baby and children's items to families in need in the Canberra region.
Why did you get into it?
I started Roundabout as I had wanted to pass on my own children's second-hand items to families in need in my own community, but couldn't find an easy way to do that. I had seen charities in other parts of Australia that do what we now do and with some time on my hands while on maternity leave from the public service, I somehow found myself launching a charity!
What do you love about it?
The thing I love most about Roundabout is the community we have built; from the donors who drop off their second-hand children's items, to the 250 volunteers who spend time keeping our operation churning; to the incredible network of services we work with to distribute goods, and the local individuals, businesses and organisations who support us financially. It's thanks to this amazing community that we've been able to grow and have such an impact on families in need in the Canberra region!
---
Who benefits from Roundabout's service?
The families we help are experiencing a broad range of circumstances which have led them to need goods for their children. For some of them these circumstances are highly complex and systemic; and for others they may find themselves requiring some assistance for a short period. We operate with no judgement whatsoever, and will help any family requiring our support.
One of our core values is 'dignity', and the dignity of the families we support is so important to us which is why we ensure all goods are high quality and presented like a gift. We exist to remove a financial burden, and to reduce the mental load that comes from having to source goods for children; in the hope that it frees up funds and mental capacity to tackle other larger issues. We love doing what we do and we want to do more of it.
For anyone thinking about donating or volunteering with (organisation), what would you say to them?
It is thanks to the support of donors and volunteers that we've been able to grow from helping 360 children in 2018 to 2040 in 2021. We know this need will continue to increase, and with ongoing support from our community we feel confident we'll be in a position to support the growth needed.
Our volunteer program is flexible, and doesn't require any regular commitment – once you've done an induction with us, you're able to come along as often as life permits. This is something that appeals well to many of our volunteers, and allows you to fit your volunteering in around other important things like work and travel!
Our team with their efforts
And lastly, how can someone get involved or donate?
If you head to our website www.roundaboutcanberra.org, you'll find information about volunteering, donating children's goods and financial donations to Roundabout. You may also like to follow us on Instagram (@roundaboutcanberra) or Facebook (@roundaboutcanb).
Thanks again, Hannah. You're an absolute star.