---
Origins
The Snow Foundation was founded in Canberra by brothers Terry and George Snow in 1991.
Terry – We started it to make a difference in people's lives in the community of our origins. George and I had a pretty straightforward view; if you see someone struggling you give them a helping hand.
Our grandfather E.R. Snow came to Canberra in 1926 to establish the Capital's first general store and the family has lived and worked hard to positively impact the community ever since.
Our commitment began by helping well-known community groups like St Vincent de Paul, Barnardos, The Smith Family, and St John's Care. Our priority was to provide grants for disadvantaged youth, people with disabilities, food programs, and schools in need – and help the individuals and organisations whose needs were not covered by government assistance. Today, the Foundation still supports many of those early groups.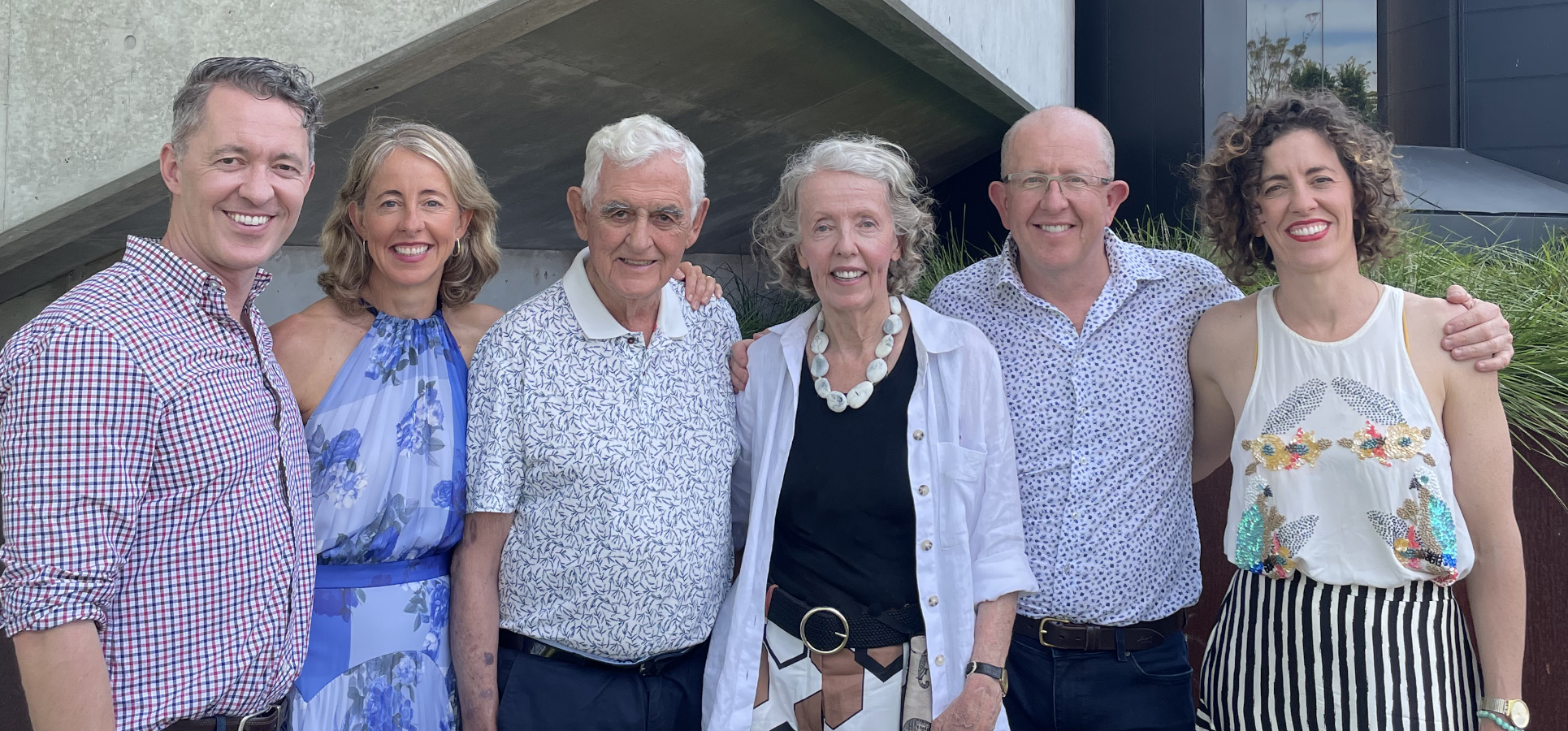 Tom Snow, Georgina Byron, Terry Snow, Ginette Snow, Stephen Byron and Scarlett Gaffey
A new era begins
Over time we grew. In 2006, the Foundation began a new era and the whole family became involved. Georgina became CEO and her siblings Scarlett, Tom, and Stephen, and their partners joined the Board.
Initially, we spent considered time listening, understanding the need and the gaps in the Canberra region supporting local charities, and developing long-term trusting relationships, many still partners today.
We helped catalyze major meaningful initiatives that are now part of the fabric of Canberra, like HOME in Queanbeyan, Common Ground, Project Independence, and more recently Clare Holland House.
Over time, we helped bring evidence-based programs to Canberra: AIME, NewPIN, Uplifting Australia, the Big Issue Classroom and the ACT Social Enterprise Hub which kicked off our support to social enterprises and jobs for those having difficulty getting into mainstream employment.
As the Foundation grew in capacity and confidence, we stepped outside our local region to back dynamic start-up social entrepreneurs with bold national agendas. To name a few: Dr Sam Prince of One Disease, Alison Covington of Good360, Mandy Richards of Global Sisters, and Steven Persson Of Homes for Homes. Each of them has gone on to have a significant impact, tackling a problem in a new way with humility and passion.
---
More recently
In recent years we increased our commitment to social justice and backed some major social change projects all requiring huge collaboration; marriage equality, Raise the Rate, and the elimination of rheumatic heart disease and crusted scabies in Aboriginal and Torres Strait Islander communities.
In 2020, we rolled out a revitalised strategy including four pillars that now guide our giving: Our Place, Our Country, Our Sector, and Our Family. We continue to focus on minority, vulnerable and neglected groups. We remain true to our values leading with humility and empathy, with a considered approach involving the community and those with lived experience.
A large part of our role is to take risks, back inspiring people and new ideas, and be nimble. We address gaps and tackle some of the underlying causes that lead to inequality by raising awareness, meeting basic needs and contributing to systemic change.
---
Today
The Foundation has grown significantly from an initial commitment of $1m, to a corpus of $145m. The Snow Foundation thrives today with hard work, a commitment to long-term and engaged partnerships, and our unwavering value system. Every day, we are inspired by the amazing people and organisations we work with and they are to be congratulated for their tireless efforts.