INVESTMENT STRATEGY
The Snow Foundation's investment strategy is to ensure a strong rate of return to fund the foundation's grant-making programs over the long term, with a target-balanced asset portfolio structure, investing responsibly in corporations which ideally seek to realise our mission, and avoid those whose activities conflict.
SOCIAL IMPACT INVESTMENTS
The Snow Foundation is committed to embracing impact investments and growing our commitments in this area.  Currently, the foundation has the following Social Impact Investments committed to the amount of $5.4M.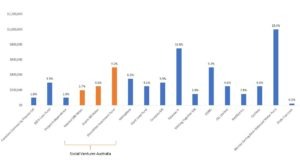 Foresters Community Finance Ltd – Offers financing to ethical, affordable and safe credit to people who don't have access to mainstream lenders until they can regain control of their financial situation
SEFA Loan Fund – Provides finance to key impact areas including affordable housing, Indigenous training and employment, holistic education, faith, community, mindfulness and wellbeing, and refugee services.
Project Independence – Social housing model for people with a disability to acquire homeownership from their pension, as well as be able to live as independently as possible, providing related services (live-in care, meal preparation) in a purpose-built complex.
Social Ventures Australia – Diversified Investment Fund (fund invests in impact organisations and housing projects, focusing on education, employment, housing, first Australians, disability and health).
AbilityMate – Custom made 3D printed ankle-foot orthoses for children.
Giant Leap – Fund invests in companies whose mission is to create a more sustainable society.
Compass SIB – The program delivers a housing-first solution to 202 young people exiting out of home care, providing them with accommodation, case management, education, assistance in finding employment and personal development services which will reduce incidences of homelessness, emergency dept presentations and Justice system convictions.
Patamar II – An international fund with the mission of improving the livelihoods of low-income communities and providing strong financial returns to its investors primarily investing in companies across five industry sectors – agriculture, e-commerce, health care, financial.
Sticking Together – To increase the number of hours in productive work for 870 young people experiencing long term unemployment improving participant wellbeing and reducing state.
CSIRO – Focuses on investment opportunities in deep technology and science ventures. These types of businesses have the potential to creatively disrupt the status quo, generating durable economic returns and large social and environmental impact over the long term for national benefit.
CSL Limited – A global specialty biotechnology company that researches, develops, manufactures, and markets products to treat and prevent serious human medical conditions.
ResMed Inc –  A California-based medical equipment company dealing primarily in equipment related to the treatment of sleep-related breathing disorders, including sleep apnoea, chronic obstructive pulmonary disease, and other respiratory conditions.
Cochlear – a medical device company that designs, manufactures and supplies the Nucleus cochlear implant, the Hybrid electro-acoustic implant and the Baha bone conduction implant.
Murray Darling Basin Balanced Water Fund – Environmental watering in wetlands of spiritual and cultural significance to First Nations People.
Pride Cup Loan – LGBTIQ inclusion in community sports – playing, spectating, volunteering etc.